ALBANY — A Guilderland man was arraigned on several charges tied to several alleged burglary and larceny incidents stretching from the summer of 2012 through the following year.
Albany County District Attorney David Soares on Friday, Feb. 28, announced that Matthew Woelfersheim, 37, of Guilderland, was arraigned in county Court on the felony charges of three counts of burglary in the third degree, grand larceny in the third degree and three counts of grand larceny in the fourth degree, as well as the misdemeanor charges of five counts of petit larceny.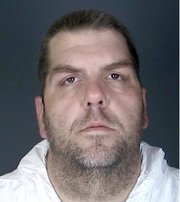 Woelfersheim allegedly illegally entered a business on West Street in Albany between July 25 and Sept. 1, 2012, and stole more than $1,000. He also allegedly entered a Watervliet Avenue home in Albany twice last August and stole money both times.
Police also allege he stole morphine from an ambulance company in Albany between Aug. 16 and Sept. 5, 2012, and stole more than $1,000 from a newsstand in the county in March of last year. He also allegedly stole more than $1,000 from a landscaping ser vice in April of last year, along with stealing money from someone in the county the same month.
Woelfersheim also allegedly defrauded the state Department of Taxation and Finance last year for more than $3,000.
Judge Steven Herrick remanded Woelfersheim to Albany County Jail without bail.
Woelfersheim was previously charged with three counts of arson in the third degree, a felony, in Guilderland Town Court, with those cases remaining open, according to police.
He allegedly set an abandoned building ablaze on Sept. 30, 2013, at 3400-10 Carman Road. Police said the fire "totally destroyed" the building. He also allegedly set Town of Guilderland's garage on fire in July of last year and the town's barn ablaze about three months later.
Vote on this Story by clicking on the Icon