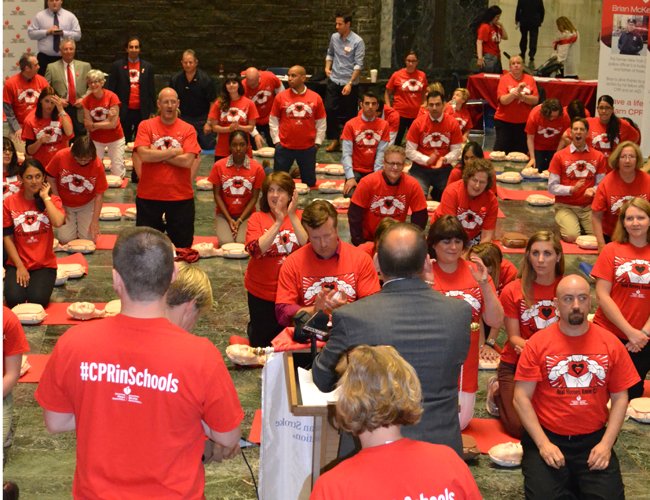 ALBANY — A woman attending a recent rally in support of a bill that would make it mandatory for schools to teach students CPR said her husband wouldn't be here today if it weren't for the fact that her son was taught CPR in health class at Sand Creek Middle School.
The lobby of the Legislative Office building was packed Tuesday, June 3, with more than 100 supporters of the bill, including two from Colonie who know first-hand the life-saving impact that timely CPR can have.
Now almost 16 years old, Casey Stashenko learned how to perform CPR in his middle school health class when he was 13.
"Two years ago, Joel and I came home from work and were going to go out to dinner, and Joel wanted to take a 20-minute rest before he went out," said his wife, Claudia Hutton. "I was going to watch TV with Casey, and I went into the room to get my iPad and Joel was collapsed on the bed. His skin was gray and he wasn't breathing. It could not have been more than a minute from when he went into the bedroom to the time I went into the bedroom."
Hutton said she dialed 911 and called for Casey to come into the room as she started to do CPR. Casey had been taught the hands-only technique just a couple of months before using equipment donated to the school from the American Heart Association.
"He saw that I wasn't doing it right and said, 'Get out of the way, you're not doing it right. You're going to kill him,'" said Hutton.
Hutton said Casey performed CPR for about 20 minutes while they were waiting for paramedics to arrive. She said their home's location on Sand Creek Road allowed medics to get there quickly, but even when they arrived, Casey continued performing CPR.
(Continued on Next Page)
Prev Next
Vote on this Story by clicking on the Icon