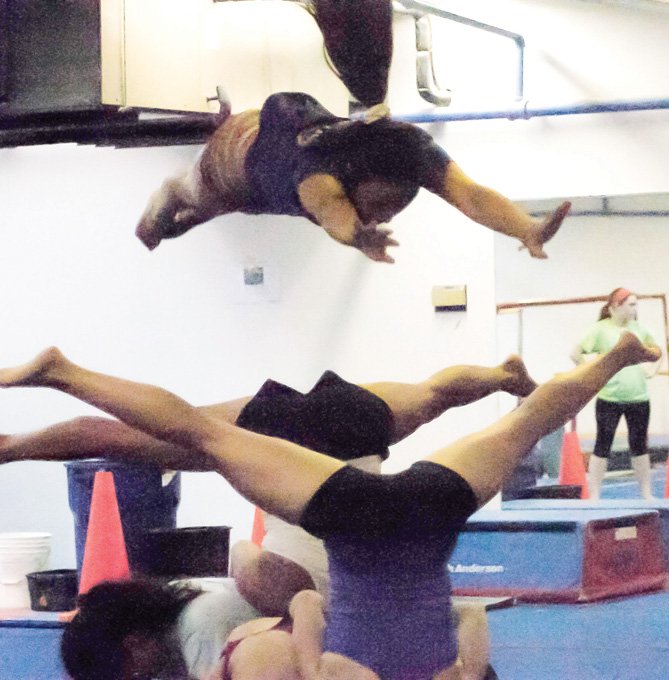 LATHAM — A group of adult gymnasts are getting a chance to show the public what they can do and help others at the same time.
World Class Gymnastics Academy's adult class is performing an exhibition Sunday, Aug. 24, at 1 p.m. at its Latham gym on Columbia Street Extension. Proceeds from the show benefit STRIDE Adaptive Sports, which helps people with special needs participate in various athletic activities.
"Once we got going (with planning the show), we started thinking as a group about what we could do to benefit something," said Eric Weiskopf, who teaches the class. "When I learned about STRIDE, I thought this kind of fits because we do some things for kids with disabilities (at World Class), and STRIDE does sports for people with disabilities. So I brought the idea to the group about doing this for STRIDE, and they liked it."
The exhibition will feature Weiskopf's students performing a variety of events including floor exercise, vault, rings and uneven bars. This is the first time many of the students in Weiskopf's class have performed gymnastics in front of the public, and they said they were excited about the show.
"I never played a sport in high school, and I wanted to do something athletic. So I came to this class about a year ago, and I've been hooked ever since," said John Mickel, a Colonie native now living in Troy.
"I'm not doing much in the show … but I think it's really good for the class," said Bridgit Goldman of Albany, who attends the class with her husband, Richard. "It's great we're getting the opportunity to showcase what we're doing in the class, and it's for a great cause."
Weiskopf started offering an adult class at World Class in 2002 with the goal of helping students get good enough to compete at the Empire State Games. But before he could send one of his students to the statewide Olympic-style competition, the Empire State Games lost their funding and folded. The fundraiser is his first chance to give students the opportunity to perform.
(Continued on Next Page)
Prev Next
Vote on this Story by clicking on the Icon