COLONIE — Last month's tragedy at Sandy Hook Elementary School had an effect on everyone, and a group of student at Colonie Central High School want to turn that negative impact into kindness.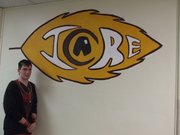 Colonie Central High School's iCARE program, which launched last year, aims to promote anti-bullying but also inspire good character. After the Newtown, Conn., shooting, the group came up with a campaign for the school's nearly 2,000 students to commit 26 acts of kindness over 26 days in honor of each of the victims. If a teacher witnesses a good deed, students receive a black ribbon with the number 26 on it.
"We wanted to make some good come of something so awful," said Rachel Tenny, a 16-year-old junior in the unofficial club. "Do one act of kindness for each victim and carry that into our daily lives in school. We want to inspire people to do acts of kindness all the time, but we're going to start with 26."
The program launched on Jan. 4 and the ribbon giveaways are quickly catching on around the school. Students can receive a ribbon for doing something as simple as smiling at a teacher or standing up for someone who is being victimized, and display it on their clothing or backpacks.
"We go through the whole month and impress it upon students to just be more aware of how they're acting and interacting with each other so they do choose a more positive path when they decide to do something," said Associate Principal Thomas Kachadurian, who is also the group's advisor.
The student-run club, which stands for Integrity, Community, Accountability, Respect and Empathy, emphasized that they hope committing one act per day can turn into a habit for their peers.
"One of our big goals is to be a voice for the voiceless," said. Jason Neal, a 17-year-old senior and the campaign's leader.
(Continued on Next Page)
Prev Next
Vote on this Story by clicking on the Icon