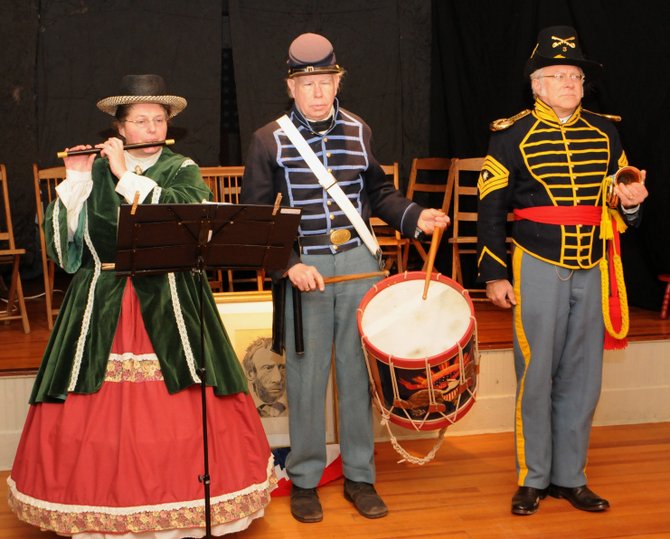 BETHLEHEM — Bill Frueh succumbed to the pressure of friends and joined the Village Volunteers Fife and Drum Corps of Delmar in 1960 after graduating high school. What started as a hobby quickly became a lifelong passion.
"After a while, Bill learned the songs he was playing had words and he really liked them," said wife Nancy Frueh. "He wanted to learn more, and the reenacting bug bit."
Frueh, who lived in Delmar the majority of his life, died on Saturday, Feb. 9, after a years-long battle with cancer. For more than 50 years, Frueh contributed heavily to the Capital District's Civil War-era music and reenactment scene. He trained to become a drummer with the local fife and drum corps before starting the historic singing group Rural Felicity. He was a member of the 77th New York Volunteer Infantry and the 13th Regiment Albany County Militia.
Because Frueh was blind, he learned how to play new music by listening to CDs.
"People will miss watching his strength in adversity and the way he lived," said Nancy. "A lot of people didn't know he was blind because he didn't make it obvious. He strived to show that just because you have a disability, it doesn't mean you're handicapped."
It is estimated Frueh played thousands of shows and events over his lifetime. Because he was unable to read music or lyrics during shows, he admitted to sometimes making up the song while keeping its intent intact.
"Because of his research, he knew the gist of the songs, and knew a lot of the historical facts and patterns of the songs, so if he forgot he would fake it," said Nancy.
Nancy met her husband after the death of Frueh's first wife, Dorothy, in 2006. Friends did their best to keep him busy, and fellow reenactor Paula Shafer introduced him to Nancy at an event.
(Continued on Next Page)
Prev Next
Vote on this Story by clicking on the Icon