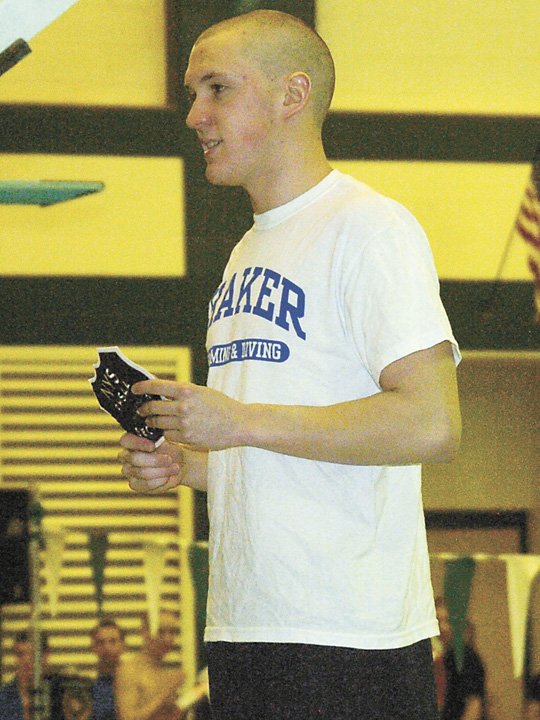 The Shaker boys swimming and diving team will be well represented at this year's state meet.
Seven swimmers qualified either in individual events or as part of relay teams at last weekend's Section II Division I championships at the Shenendehowa Aquatic Center.
Though no one from Shaker won a Section II title, the Blue Bison had several top-eight performances to help them finish third in the team standings with 333.5 points. Shen claimed its seventh consecutive team title with a Section II-record 539 points, nine points more than the previous mark the Plainsmen set two years ago.
Shaker coach Kim Murray credited an influx of young talent for helping her team move up the Section II ranks.
"There is a happy marriage with these guys coming in from a club team because they come into the season already in shape," said Murray. "And they work harder for each other than they work for themselves."
Shaker's 200-yard medley relay team led off the meet by placing second to Shen. The team of Timothy Buff, Ryan O'Connor, William Matz and Nikos Moisidis finished with a time of 1:38.71, nearly 2.5 seconds behind the Section II record-setting Shen team of Eric Tsui, Mike Conley and brothers Ryan and Luke Gordon.
Buff and Andrew Semmes qualified for the state meet in the 200-yard freestyle. Semmes, a sophomore, was out-touched at the wall by Shen's Eric Burdge for second place and had to settle for third with a time of 1:46.39. Buff was fourth with a time of 1:46.99.
Matz, a freshman, earned his first state meet berth in an individual event when he placed fourth in the 200-yard individual medley with a time of 1:59.08. He later took third place in the 100-yard breaststroke with a state meet qualifying time of 1:00.61.
Brian Nolte finished second in the 100-yard butterfly, but his time of 56.89 seconds was more than three seconds off the winning pace set by Tsui, who claimed the title with a time of 53.53 seconds. Nolte came back to place second in the 500-yard freestyle with a state meet qualifying time of 4:51.49. Niskayuna's Emerson Wells pulled away to win the 500-yard freestyle with a time of 4:45.13.
(Continued on Next Page)
Prev Next
Vote on this Story by clicking on the Icon