COLONIE — A registered sex offender pled guilty to a count of sexual abuse on Thursday, Feb. 14, after inappropriately touching a 91-year-old female resident at the Loudonville Home for Adults in November, Colonie police said.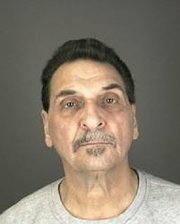 Richard P. Ragone, 64, of 29 Maryland Ave. in Albany, was working at as a maintenance worker at the Loudonville Home for Adults on 298 Albany-Shaker Road when he was seen by a co-worker placing his hands down the shirt of the resident and rubbing her breasts without her consent while she was sleeping on Nov. 30, 2012, police said. Ragone is a registered Level 3 Sex Offender and had been working at the home since 2008. After the allegation, Ragone was fired from the home and then arrested on Dec. 20, 2102.
Ragone remains in custody and will be sentenced to four years in State Prison as well as 10 years of post-release supervision on March 13. He pled guilty to one count of sexual abuse in the first degree, a felony, before the Honorable Judge Lynch in Albany County Court.
"We encourage all employers and concerned citizens to utilize Offender Watch, a searchable database where users can search for sex offenders who reside in their community," District Attorney David Soares said in a statement. "Links to Offender Watch are available on our website: www.albanycountyda.com."
Vote on this Story by clicking on the Icon