COLONIE — Once a person goes into cardiac arrest, it only takes four minutes before brain tissue starts to die. But if a simple series of chest compressions is performed on that person, their odds of living increase dramatically. Do you know CPR?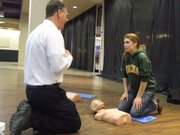 In recognition of National Heart Month, the Colonie EMS Department is hosting four separate events at locations around the town for any community members to come and learn hands-only CPR. The free "CPR Anytime" training sessions will provide easy-to-learn lessons on how to perform CPR on adults, children and infants, as well as how to use an AED, or an automated external defibrillator.
EMS Assistant Chief Jack Bevilacqua said following research conducted by the American Heart Association, hands-only CPR is now the preferred method after it was learned many people are afraid to do mouth-to-mouth CPR.
"(They're afraid) to touch somebody or get sued, which is ironic because nine out of 10 people who have gone into cardiac arrest do so at home in front of their loved ones," Bevilacqua said. "They don't do it because they're afraid they'll get it wrong."
Bevilacqua said CPR should be performed when someone goes into cardiac arrest has no signs of life — no breathing without any movement. He said calling 911 should be the first step, followed by hands-only CPR. The person should also be moved to the floor or a hard surface, and not a chair or bed, to help with delivering strong compressions.
In the training sessions, learning how to perform hands-only CPR is painted as a simple but vital concept. There is a short video explaining the importance of CPR and how it saves lives, and then an EMS member will demonstrate hands-only CPR on a dummy, making chest compressions to the beat of "Stayin' Alive" by the Bee Gees. There are also minor changes that need to be performed whether the person is an adult, child or infant.
(Continued on Next Page)
Prev Next
Vote on this Story by clicking on the Icon