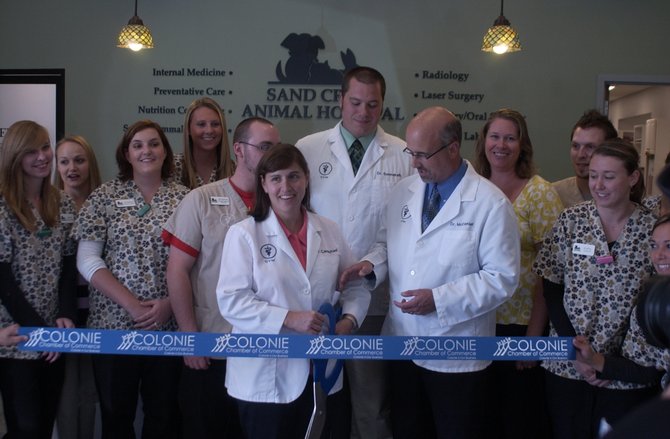 COLONIE — Cats, dogs and other furry pets can now fully extend their paws at a much larger and newer location for the Sand Creek Animal Hospital, now at 130 Wolf Road.
The office received an extreme makeover in a only a few short months, moving from a 3,000-square-foot building on Sand Creek Road to the 8,600-square-foot new facility, which is also filled with upgraded equipment, exam rooms, offices and a full pharmacy. The expansion also marks the hospital's 10th anniversary.
Co-owner and manager of the hospital Dr. Matthew S. McDaniel and his wife, co-owner Dr. Anne Marie Carmichael-McDaniel, celebrated the grand opening on Thursday, Sept. 20, with the Colonie Chamber of Commerce. An open house to the public on Saturday, Sept. 22, featured police canine demonstrations by the Schenectady County Sherriff's Department, pet adoptions, pet tag engraving and face painting.
The pet-friendly hospital features eight exam rooms, including one "comfort room," brand new state-of-the-art dental units, a larger surgery area, specialty procedure areas and treatment rooms.
"The hospital's built for the future. In the 10 years we've been open, things have drastically changed in veterinary medicine … in equipment and techniques and the things we can do," McDaniel said. "With the expansion we're able to handle future growth, but also focused on upgrading and trying to provide the best possible care to our patients."
Although it's not an emergency clinic, the hospital is versatile. Its clients are predominately cats and dogs, but the staff see other animals including rabbits, ferrets and guinea pigs. McDaniel said they see about 10,000 patients annually.
"If it has four legs and fur, we'll see it," McDaniel said.
The new building also has kennels in the back, with separate ones for cats and dogs as well as an isolation unit.
"We focus on preventative care and if our patients are sick, providing medical attention they need," McDaniel said.
Even though the hospital was located only a street away, relocating to Wolf Road has already offered many advantages.
"I think we're more visible. (We've) already had people come in … who didn't realize we were only two minutes away," McDaniel said.
While taking care of their patients, the primary focus for the new office is efficiency. With twice as many exam rooms, better equipment and more room, the clinic's 18 employees can focus on their primary goal: taking care of the community's loved animals.
"I've very proud to say we're are living out our dream," McDaniel said.
Vote on this Story by clicking on the Icon