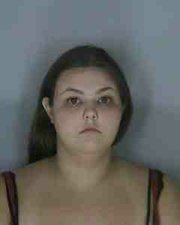 A 21-year-old Colonie resident was arrested Sunday, Sept. 9, when she injured an on-duty police sergeant on North Pearl Street, Albany police said.
At around 1 a.m., Sergeant Melissa Gipson was approached by a woman saying she and her friend were smacked across the face by Katelyn Lyons, of 4 Locust Park, in front of Figure 10. The woman said Lyons had walked across the street into Legends on Pearl, according to police.
When Gipson confronted Lyons in front of Legends on Pearl about the complaint, Lyons allegedly punched the sergeant in the face and tried to pull her to the ground. Gipson attempted to put handcuffs on Lyons, who then stuck her fingers in Gipson's mouth, police said. A bouncer from Legends on Pearl helped get Lyons into custody.
Lyons was charged with assault in the second degree, obstruction of governmental administration in the second degree and resisting arrest. She was arraigned Sunday and made a $1,000 bail. A harassment report was filed for the slapping complaint.
Gipson was admitted to a local hospital with an infection in her mouth and a concussion.
Vote on this Story by clicking on the Icon