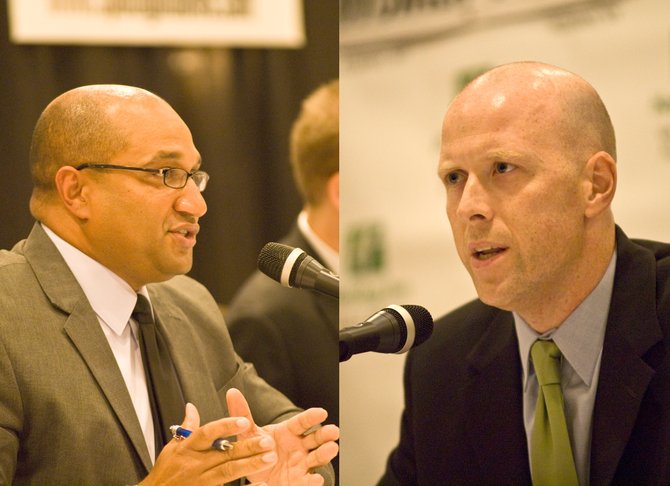 COLONIE — With just one week until primary day, the two Democratic candidates for Albany County district attorney made their cases to voters at a candidate forum Wednesday, Sept. 5, that saw more than a few heated exchanges.
Photo Gallery
Photo Gallery - Albany County DA Candidate Forum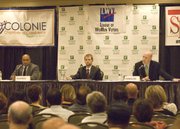 The Primary Candidates for the Albany County District Attorney squared off in a debate on Sept. 5 in Colonie.
Incumbent David Soares and challenger Lee Kindlon touched on a range of county issues at the forum at the Holiday Inn Albany on Wolf Road, which was sponsored by the Albany County League of Women Voters, The Colonie Chamber of Commerce, the Capital District Alliance for Universal Healthcare, the Capital Area Council of Churches and Spotlight Newspapers.
Both candidates answered audience questions and challenged one another throughout the entire forum, presenting starkly opposing viewpoints with almost every answer. Soares stood by his record, while Kindlon — who at one point divulged he'd voted for Soares twice over — attacked it.
Youth crime was one of the main topics of the night. Soares said the most effective way to keep young people "off the street" is to have "programs kids want to be involved in." Soares touted his ENOUGH program, which targets illegal guns on the street, as well as youth programs like a step team and motor cross.
"(These are) programs that are effective and are working," Soares said. "What we have seen over the years is an immense drop in crime, and so we've seen less arrest in kids. One of the reasons why is because we are targeting them at a much younger age and giving them activities to do after school when it's high time for crime."
Kindlon, however, said he wants wholesale reform of the juvenile justice system, saying that New York is one of the last states that "treats kids as young as 16 as adults for criminal justice purposes." Kindlon said Soares has spent $120,000 in forfeiture funds to Pastor Charlie Muller and the ENOUGH program, leaving no money left over for other communities.
(Continued on Next Page)
Prev Next
Vote on this Story by clicking on the Icon