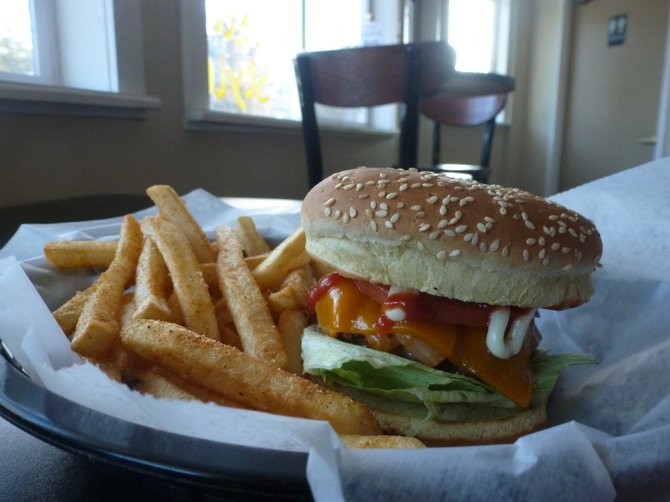 COLONIE — Step aside, animal lovers. Some of your favorite creatures may be up for grabs … for dinner.
Burger Centric on Delaware Avenue in Albany has changed locations and names and is now operating as Dave's Pizza & Burgers at 53 Fuller Rd. in Colonie, and serving some of the more exotic meats the area has to offer.
Former bodybuilder and restaurant owner Dave Khan, originally from Pakistan, said he wants to introduce 39 different styled burgers, including llama, crocodile, ostrich and kangaroo.
"Kangaroo is a regular cuisine in Australia," Khan said. "People eat them like we eat cows here."
The small burger joint also offers a more exotic cuisine in both source and price — lion burger, for $75.
"I brought the price down … it used to be $175. I sold a lot of them at Burger Centric," Khan said. "I used to sell like three to four every day."
Lion is the most expensive thing on the menu, and other burgers range from $9 (bison) to $22 (rattlesnake). Khan also sells Kobe burgers for a mere $11 each.
While some of the meat, like kangaroo, is shipped from overseas, Khan orders from a company in Menands that specializes in exotic meats. Whenever possibly, all of the meat is from local farms, is organic and free of antibiotics, hormones and GMOs.
Khan also emphasizes the importance of not wasting any part of the meat.
"I learned that we're wasting half the thing in the grease … we're not eating it all. So I created a system – whatever you get on your burger, you get the 100 percent, all natural vitamins, minerals, protein, carbohydrates. Whatever's inside that meat, you have it," Khan said.
Although he's a meat lover, Khan has a few vegetarian specials on his menu, including the "Smothered Veggie," a vegetarian burger with sautéed mushrooms topped with melted Swiss for $9.
(Continued on Next Page)
Prev Next
Vote on this Story by clicking on the Icon