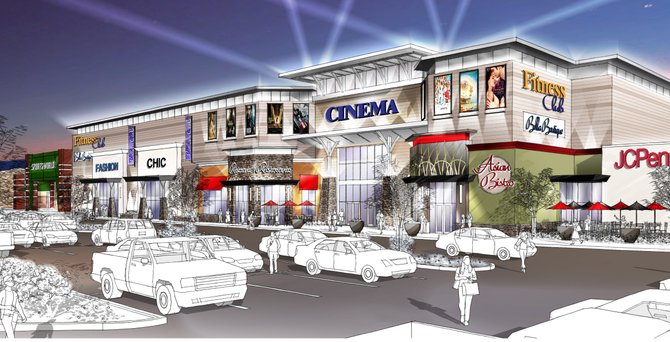 LATHAM — A development team with plans to revitalize the faltering Latham Circle Mall are before the Town of Colonie and looking for new tenants.
The Shoppes at Latham Circle, ambitiously set to be completed by the fall of 2013, would mean an entirely new look for the run down mall built in 1957. CBRE/Grossman Retail Advisors of Boston were called in earlier this year by the owner of the mall to evaluate the redevelopment.
"It's seen its better days," Mark Hebert, vice president of development and project manager of Grossman Development Group, said.
Hebert said they plan to demolish the mall between the theatre building and Lowe's. Both JCPenny and Lowe's will stay with the new building and will not be rebuilt. The existing facility is 589,000 square feet and is an interior mall; the Shoppes will be a completely exterior-facing mall and about 1,000 square feet less.
The developers are looking to put anywhere from seven to 12 new tenants in the building.
"Part of our challenge is that we don't know who are tenants are entirely yet," Hebert said.
Hebert said they had three tenants in mind, but one — bar and game restaurant Dave & Buster's — decided to try another location. The developers are hoping for an entertainment-type attraction, possibly like the Regal movie theater already at Latham Circle, as well as various types of restaurants, a grocery store and more.
"The objective of what we're looking to do is to create a shopping center that has balance," Hebert said. "There's a home improvement store (Lowe's) there. There's a department store. What we'd like to do is complement those two with other types of stores."
Although the developers are looking to receive concept approval at the next Colonie Planning Board meeting on Tuesday, Oct. 23, Hebert outlined an aggressive schedule: demolition this winter, construction as early as March and project completion by the fall of 2013.
(Continued on Next Page)
Prev Next
Vote on this Story by clicking on the Icon