COLONIE — A 26-year-old woman has been arrested and charged for robbing and burning down a home at 96 Elm St., which also killed the homeowner's dog, Colonie police said.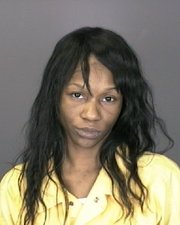 Khadijah K. Hopkins, of 1324 15th St. in Troy, was originally arrested on Tuesday, Nov. 20 for burglarizing the Elm Street home. She allegedly stole several items from the residence, including a flat screen television, laptop computer, two PlayStation consoles and several video games. Some of the stolen items were recovered her home and a secondhand store in Troy, police said. Hopkins was also charged on Monday, Nov. 26 with the arson and death of the dog, a pitbull mastiff mix, found dead in its crate in the home.
Lt. Robert Winn of the Colonie Police Department said the homeowner gave police Hopkins' name, after she told the homeowner she was in the area the day of the incident. Winn said police don't know the exact reason Hopkins allegedly burned down the house but it might have been to "cover up the burglary."
Hopkins is an acquaintance of the homeowner and was aware he was not home on the day of the incident, police said. Winn said there may have been some issues between the two and Hopkins may have been seeking "revenge with some other motives."
Hopkins was arraigned in Colonie Justice Court and was remanded to Albany County jail in lieu of $30,000 bail (cash or bond). She was charged with burglary in the second degree, arson in the third degree, aggravated cruelty to animals, all felonies, and petit larceny, a misdemeanor. She was also arrested for an unrelated warrant for failing to appear on an arrest for criminal possession of a controlled substance in the 7th degree, a misdemeanor.
The case was referred to the Albany County District Attorney's Office for further court proceedings.
Vote on this Story by clicking on the Icon