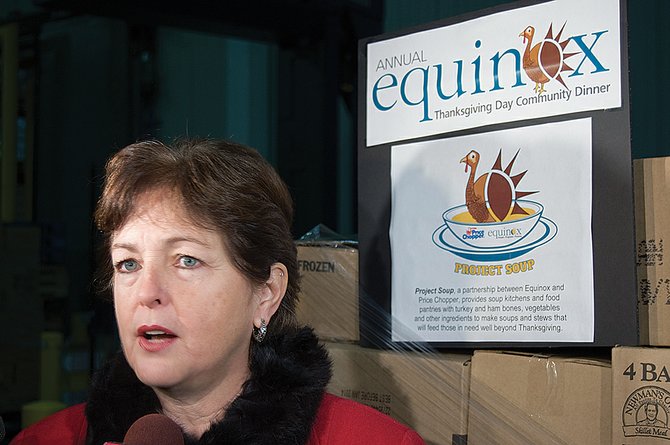 ROTTERDAM — Serving up a traditional Thanksgiving dinner with all the trimmings for more than 9,000 people requires tons of turkey — literally.
Price Chopper on Friday, Nov. 9, loaded up the second half of a massive turkey donation to the annual Equinox Thanksgiving Day Community Dinner. Around five-and-a-half tons, or 20,000 pounds, of turkey have been sent from Price Chopper's Frozen Food Distribution Center, located in the Rotterdam Industrial Park, to prepare dinners for around 9,5000 people throughout the Capital District.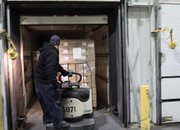 Approximately 500 people are expected to attend the organization's sit-down dinner at the First Presbyterian Church in Albany, with the remaining meals delivered to people within a 40-radius of Albany. The group served 9,350 generously portioned meals last year.
"We are prepared for more need this year," said Lea Bosquez, director of Development and Community Relations for Equinox.
Last year the organization planned to feed 9,000, but saw the need increase beyond projections. Enough meals were made for everyone, but this year it will be ready to serve more dinners.
More than 3,500 volunteers turn out to help cook, serve and deliver the bounty of meals. The planning starts over the summer and the kitchen is fired up the Sunday before Thanksgiving.
"I think the thing that is just so remarkable every year is that we have so many people in the community that come out and make it a part of their family tradition," Bosquez said. "More and more people are hearing about it and wanting to become involved in it."
Mona Golub, spokeswoman for Price Chopper, said the company has been involved in the dinner for decades and has donated different foods over the years. Golub said the company sees the value of the dinner and of Equinox in general.
"It helps to provide a nourishing, traditional holiday meal for many neighbors and friends in our community who otherwise wouldn't be able to enjoy that," Golub said. "Donating all of the turkeys Equinox needs to produce this Thanksgiving community dinner means that they don't have to spend extra time soliciting turkey and can focus on their everyday mission."
(Continued on Next Page)
Prev Next
Vote on this Story by clicking on the Icon