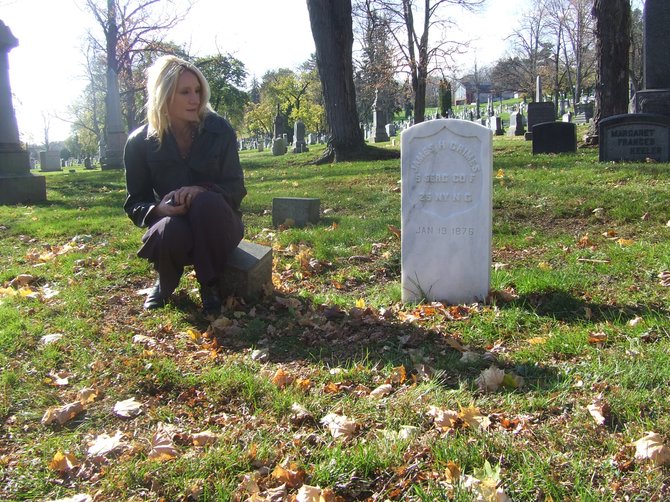 CAPITAL DISTRICT — It seems like every day is Veterans Day for historian KellyAnn Grimaldi, because she's made it her work to remember those who served.
In 2007, Grimaldi decided to take on the unique task of identifying every Civil War soldier buried in the 114-acre St. Agnes Cemetery in Menands. Using a list of 248 names culled from a survey of vets in the area, the historian set out to restore and replace the cemetery's decrepit tombstones.
Grimaldi has already identified 508 soldiers, and is certain there are more.
"The veterans are going to be forgotten and that's just not acceptable," Grimaldi said. "I want people to come to me if they know they have an ancestor that was a veteran that may not be marked at all. We want to be able to identify the location of the soldier's grave and make sure it's properly memorialized."
Grimaldi launched the "Adopt a Civil War Veteran" campaign, in which anyone can sponsor the restoration of a soldier's gravestone. Ancestors, veterans and even strangers have already helped fund more than 90 brand new markers and the cleaning supplies to restore 140 deteriorated stones.
Tracking down all the graves was a task made more difficult by the fact many are unmarked. When the cemetery opened in 1867, a few cemeteries in the area closed and many unmarked bodies were transferred to St. Agnes. Marking graves has always been the responsibility of the family, Grimaldi said, and sometimes issues arise. If a wife died before her military husband, she is entitled a military marker. His regiment and company would be inscribed at her grave but when the husband died, sometimes no one was around to claim the body and the grave remained unmarked.
"Those graves that are unmarked, oftentimes the only evidence they are buried there is the depression in the ground, where you see the wooden box they were buried in collapsed," Grimaldi said. "You know there's a body there, you just don't know who it is."
(Continued on Next Page)
Prev Next
Vote on this Story by clicking on the Icon