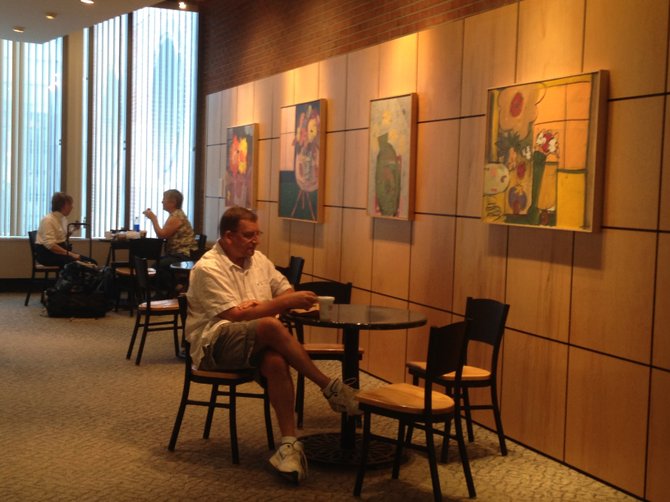 CAPITAL DISTRICT — A new partnership between Saratoga Arts and Albany International Airport's Art and Culture Program is ensuring the old departure space on the second floor of the airport won't stand vacant.
A new art gallery called The Annex Gallery debuted its first exhibition, "Robert Cartmell: In the Studio," on Friday, May 25. Local artist Robert Cartmell's works spanning 40 years will be on display through November.
"The Annex Gallery will host an ongoing series of exhibitions that will feature contemporary, regional artists," said David E. Langdon, chairman of the Albany County Airport Authority. "We purposely created The Annex Gallery to include a comfortable seating area that can be enjoyed by our travelers and the general public."
Elizabeth Dubben, director of exhibitions at Saratoga Arts, will head curating duties for the gallery, located near the terminal parking bridge on the second floor before the security checkpoint. She said the focus is local, regional artists.
Cartmell, of the Albany area, was the perfect inaugural artist not only because of his vast body of work (he boasts hundreds of paintings and thousands of drawings) but because he's achieved international recognition for his art and more.
"For the past few decades, Cartmell's many passions have coexisted on the canvas, expressing a sense of whimsy and wonderment. On the surface, abstract shapes, vibrant colors and playful imagery evoke a sense of enjoyment. Yet, ever present are dangers, anxieties and fears," reads an artist statement provided by Cartmell.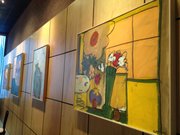 Many of Cartmell's paintings depict his fascination with ancient history, mythology and magic; but his earlier work drew on his expertise of rollercoasters. He created canvases heavy on color and abstract shapes, melding them together to create a metaphor with the thrill of rollercoasters at its core.
"He's a prolific artist and his work is really quite impressive. … He was a good fit for the show – a longtime local artist who has been exhibiting his work for a lot of years," said Dubben.
(Continued on Next Page)
Prev Next
Vote on this Story by clicking on the Icon