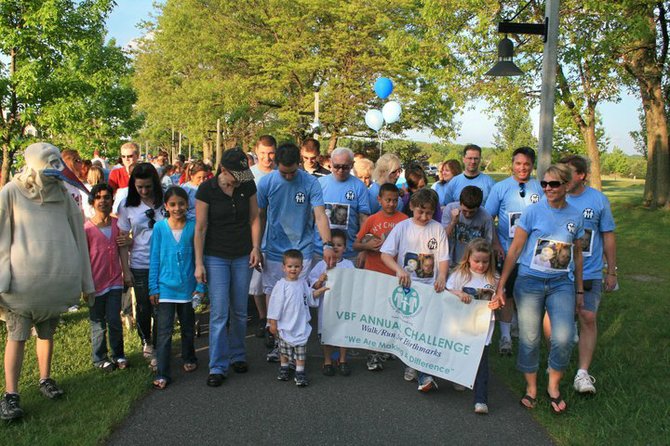 CAPITAL DISTRICT — Eighteen years ago, Linda Rozell-Shannon made a deal with God.
"I prayed and said 'God, if you give me a surgeon that will remove this tumor from my daughter I'll dedicate my life to this,'" said Rozell-Shannon, a Niskayuna doctor.
She found a surgeon, all the way in Arkansas, and after he removed her daughter's hemangioma, Rozell-Shannon asked him to start a foundation with her. Now, the Vascular Birthmarks Foundation has networked 60,000 children into treatment and is the leading nonprofit dedicated to the cause in the world.
One in 10 children are born with a vascular birthmark, like port wine stains or hemangiomas, but only 1 in 100 require an evaluation by a specialist. VBF lends a necessary hand, said Rozell-Shannon, because most pediatricians aren't trained to refer babies to specialists and frequently tell parents the marks will go away.
"Because it's growing or potentially obstructing their vision, breathing or seeing … it's a big deal. Pediatricians think it'll go away but it's not true," said Rozell-Shannon.
VBF works with families to get an accurate diagnosis, a treatment plan and coordinate with insurance companies.
Kyla Graziane of Guilderland said she would have been lost without VBF, which stepped in when her son had a vascular birthmark on his face.
"VBF has been so supportive of everything. Knowing other kids that have it and other parents that have dealt with it has just been amazing," said Graziane. "We were so lost as to what to do before we ran into Dr. Linda."
Graziane's son, Chase, will be 2 years old in June and is the "Birthmark Champion" at the Fourth Walk/Run for Birthmarks on Friday, May 4, at The Crossings in Colonie.
"It was pretty large on his face right under his eye and … they were talking about it affecting his vision quite a bit," said Graziane.
(Continued on Next Page)
Prev Next
Vote on this Story by clicking on the Icon