NEW SCOTLAND — After months of negotiations, Albany County Officials have come to an agreement with the Mohawk-Hudson Land Conservancy to open another section of the county's Helderberg Hudson Rail Trail.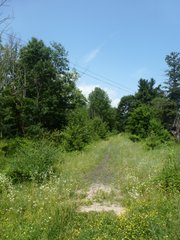 Through a partnership with the Town of New Scotland, the Village of Voorheesville, Albany County and the Conservancy, a 2.4-mile section of the trail is scheduled to be opened toward the end of the summer. The work will be completed by the "Friends of the Rail Trail" group and other members of the community, so funds will not be needed from local municipalities.
"It's been a long time coming," said County Executive Dan McCoy at a press event on Friday, June 22, near the New Scotland entrance to the trail at the corner of Talon Road and Upper Font Grove. "I look forward to getting the full 10 miles of the trail opened up eventually, but it's going to be more partnerships like this (that make it happen.)"
Land to create the Albany County Rail Trail was purchased in 2010, but the project has been in the works for nearly seven years.The funds were not available to complete the work needed to open the full path after the land was purchased. Last summer, a 1.8-mile section of the trail was opened in Bethlehem through volunteer work and donated funds.
The original plans called for paving the entire trail to meet federal grant standards to become a commuter trail. For now, repairs and upgrades will be made so pedestrians will be able to use the additional section of the trail. The county had previously secured a $2 million grant to help with the trail, but according to volunteer and licensed landscape architect Scott Lewendon, after the grant application was filed, additional costs were found to fix the trail, bringing the cost to $8 million. To get the newest section of the trial opened to pedestrians, $7,000 would be needed to make repairs and install safety railings.
(Continued on Next Page)
Prev Next
Vote on this Story by clicking on the Icon