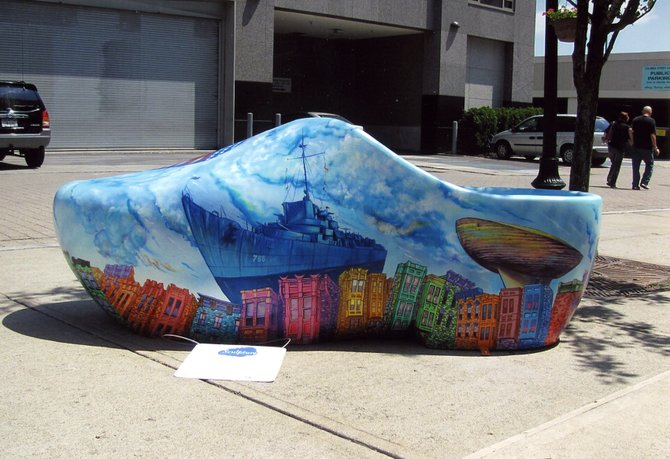 ALBANY — When members of the Downtown Albany Business Improvement District approached Tony Iadicicco about painting a clog for the annual Sculpture in the Streets exhibition, he had only seconds to decide whether to take on the project. Somehow, the group had ended up with a spare shoe, and there were other artists waiting to be contacted.
"He's a pretty big ringleader of local artists," said friend Gutman Black.
Iadicicco, the art director at Albany Center Gallery, put the call out to local artists on Facebook about painting the giant shoe. He was given the project on short notice and needed help. That's when Black packed up his equipment from his studio in Loudonville and headed down to Albany.
Black, a Bethlehem native, said his plan was to take a section of the shoe and spend six to seven hours painting until he was done. But when he got to the gallery, the artists were just ending their night. When Black told Iadicicco why he was there, he opened the doors back up.
"I saw what they started to do and they weren't really set on their ideas yet," he said. "I asked Tony what he was looking to do and he said he wanted to create the best piece possible. I told his that was cool, because that's what I'm about, too."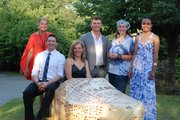 Black's six-hour session turned into a two-week partnership with Iadicicco. The clog was moved to Black's studio, where he estimates he spent about close to 250 hours creating the finished product — a primary colored skyline filled with all of Albany's greatest landmarks.
Black said the idea came to him after a nostalgic discussion with his father about the toys they played with as children. All of the colors used remind the 30-year-old Ringling College of Art and Design graduate of his favorite playthings, like Transformers and Teenage Mutant Ninja Turtles.
(Continued on Next Page)
Prev Next
Vote on this Story by clicking on the Icon