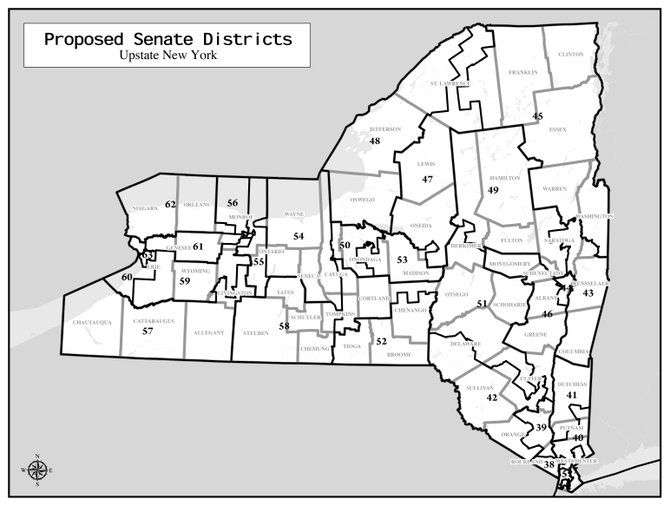 The state Legislative Task Force on Demographic Research and Reappointment today released its suggestions for redrawn state Senate and Assembly district lines.
The plans make a number of changes, including the addition of another Senate seat. If the new lines were approved, the Senate would have 63 members.
In the Capital District, among the most dramatic changes would be the reshaping of the 46th Senate District, represented by Sen. Neil Breslin, D-Bethlehem, to stretch much further south into Ulster County, but cutting out Bethlehem, Colonie and the City of Albany. Those areas--as well as Troy, Cohoes and Rensselaer--would be covered by the 44th Senate District, which would be shifted from its position covering Schenectady, Amsterdam and parts of Saratoga County.
Sen. Hugh Farley, R-Schenectady, represents the 44th.
The state has the opportunity to redistrict every decade, based on results of the national census. The Task Force is comprised of six members, including four legislators.
There will be a round of public hearings on the maps held around the state, with the tour kicking off in Albany Monday, Jan. 30, at 10:30 a.m. in the Legislative Office Building.
The Task Force's map are available for viewing here.
Vote on this Story by clicking on the Icon