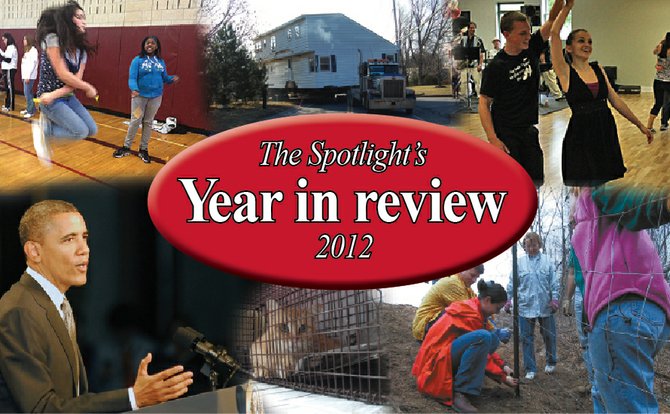 COLONIE — January
• Colonie Town Supervisor Paula Mahan is sworn into office for a third term on New Year's Day. Paul Rosano was also sworn in as the newest Colonie Town Board member.
• Capital OTB opens the Clubhouse Race Book on Central Avenue on New Year's Day. The 23,000-square-foot facility is equipped with 240 flat screen TVs, the largest projector screens in the Capital District and a full bar and restaurant.
• David C. Rowley is appointed to the Colonie Town Board on Thursday, Jan. 5, filling the vacant seat left by Dan Dustin, who resigned at the end of December.
• Lee Kindlon announces his intent to run against incumbent David Soares for Albany County District Attorney in a Democratic primary. According to financial disclosure reports to the New York State Board of Elections, Kindlon took in $50,000 between July 2011 and January 2012, including a $20,000 loan from his father, Terry Kindlon, for his campaign. Soares had $58,000 in contributions over the same period of time.
• Sandra Bauchiero takes over Ellen Mnich's 15-year-old interactive storytelling program, Aunt Helen's Closet. Mnich spent more than a decade traveling to classrooms, churches and other venues to tell the story of her Aunt Helen, who she said traveled to every country in the world except for two and every U.S. state.
• County Executive Dan McCoy announces that trained 911 dispatchers will start answering all calls to the Crime Victims and Sexual Abuse Hotline and transfer them to certified rape counselors or other appropriate individuals. Previously, the calls were contracted out to an answer service in New Mexico.
• Town Supervisor Paula Mahan gives her 2012 State of the Town address. Mahan praises various town officials, departments and residents for contributing to making 2011 a "productive year" and touts elimination of the town's deficit and the signing of he landfill agreement as major accomplishments.
(Continued on Next Page)
Prev Next
Vote on this Story by clicking on the Icon