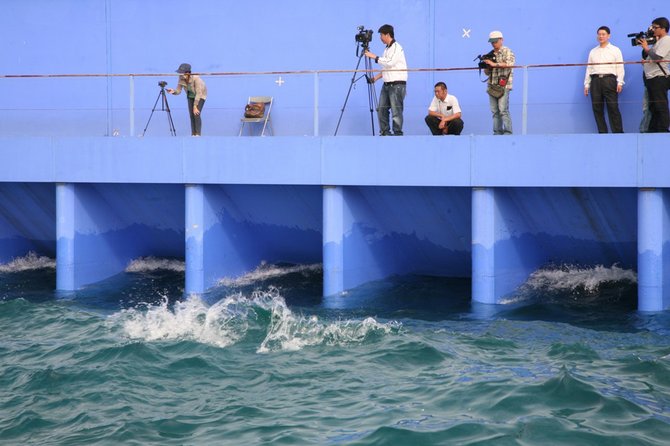 COLONIE — A local company is making waves on the silver screen — literally.
After working on several major motion pictures, Colonie's Aquatic Development Group (ADG) supplied a specialized wave system that generated the open water shots in Ang Lee's "Life of Pi."
The film, based on Yann Martel's 2001 novel, depicts a young boy shipwrecked for 227 days, living on a lifeboat with a Bengal tiger. The majority of the film takes place on the ocean, and there are several major storm scenes.
Vice President of Business Development for ADG David Keim said he was contacted by one of the film's executive producers about two-and-half years ago to talk about creating a special wave generator system. The company has worked on several other films before, including 2003's "Master and Commander" and 2006's "The Guardian."
"We're pretty well known as being the go-to people for waves," Keim said. "We're the largest wave generation company in North America."
For "Life of Pi," the company had a short two months to produce and design the high-tech wave equipment from scratch in Colonie and then ship it to Taiwan, where part of the movie was shot. ADG created a $1.3 million, 24,000-square-foot system with a dozen 150-horsepower wave generators and one 125-horsepower air compressor that were placed in a 300-foot wide by 900-foot long pool. The waves are generated by taking extremely large volumes of air and releasing it into a "caisson," or a watertight chamber. The caisson fills with water in the pool, and then the air is blasted down and out into the pool through an opening at the caisson's bottom, creating a wave.
Timing for the wave valves is key, and is electronically controlled to create the realistic effect.
"(It can) replicate everything from raging storm conditions to a gentle swell you have on the ocean in calm seas," Keim said.
(Continued on Next Page)
Prev Next
Vote on this Story by clicking on the Icon