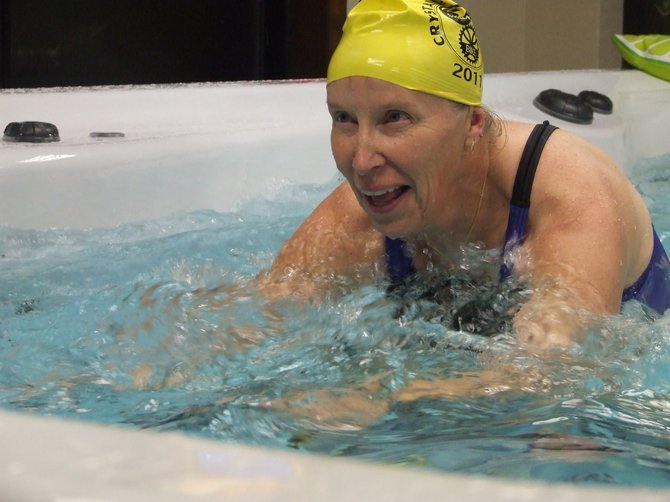 LATHAM — While working on the job delivering steel, 50-year-old John Perry's life changed dramatically. An accident left him with a snapped tibia and femur in his left leg.
"They put pieces in me and told me I'd never run again," he said.
An Ironman-in-training, Perry refused to let an injury stop him. After a year-and-a-half of recovery, he was moving his body again and wouldn't let the accident that shattered his leg hold him back.
"I don't care about time," he said. "When you do the Ironman, you have to worry about the cutoffs. If I came two minutes before midnight, I'd still finish. It'd be nice to finish in the daylight, but it ain't happening in my world."
Perry is just one of the many Capital District residents who take on the Ironman Lake Placid, the second oldest Ironman in North America. Roughly 3,000 racers make a 2.4-mile swim, 112-mile bike ride and a full marathon run, all in one day. Contestants have from 7 a.m. to midnight to complete the task, though if they don't make it past certain "cut off" times, they have to stop during the competition.
Competitors like 59-year-old Margaret "Peggy" Phillips trains year-round for the event.
"I was doing swimming twice a week, running twice a week, biking twice a week minimum. Throw in some weight training. Weekends there might be a long bike ride with a run, back-to-back. It geared me up distance wise," she said.
Both competitors work with the Capital District Triathlon Club (CDTC), which promotes multi-sport activities in the Capital District. To help train in the winter months, competitors usually swim in the YMCA or other indoor pools.
On Wednesday, Nov. 28, Phillips and Perry tried out the Michael Phelps Signature Swim Spa, made by Master Spas, at Concord Pools and Spas in Latham. The 8-foot-long Swim Spa has a propeller design, a consistent flow of water with adjustable resistance.
(Continued on Next Page)
Prev Next
Vote on this Story by clicking on the Icon