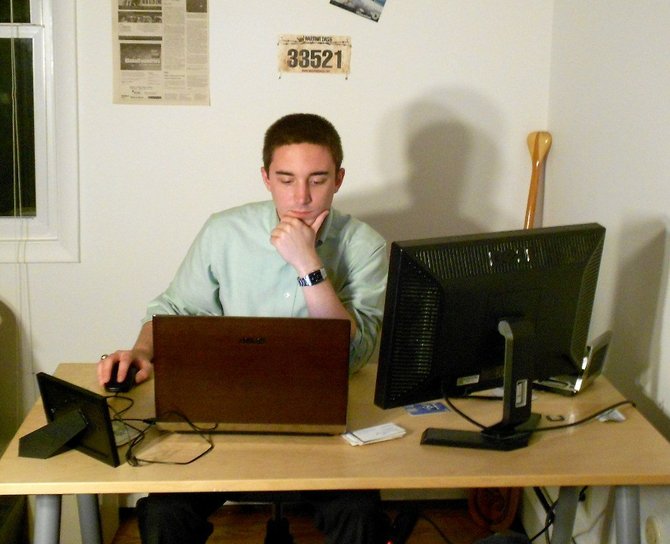 CAPITAL DISTRICT — Starting a business from scratch in this economy is a daunting prospect to even experienced businesspeople. But apparently, no one told Keegan Hayes.
Hayes, 23, might be only one year out of Siena College, but he's already basing his professional career on helping startups gain a foothold in the Capital District. He's founded the Capital Region Entrepreneurs Group (CREG), a networking organization that helps provide resources and advice to local entrepreneurs who want to start or grow their own business. The initial goal of the group was just to get entrepreneurs talking, hearing out each other's ideas and feeling less alone.
"Entrepreneurship is a lonely business. People don't necessarily have other people to talk to about the obstacles they are facing or how to get to the next level of business," said Hayes, a Latham native who earned his bachelor's degree in business management.
Now that Hayes' business is in motion, CREG offers monthly networking events, fundraising assistance, workshops and media training courses. It also has a senior advisory team, which temporarily serves as a strategic team until entrepreneurs find the people for their business.
CREG has only been up-and-running as a networking organization for a couple months, but Hayes has had entrepreneurial ideas rolling through his mind for years. While a senior at Siena, he started the Siena College Entrepreneurship Organization to let students get together and talk about their own business ideas. He also started his own company, Legit Posters, where he sold posters designed with school logos directly to colleges.
Earlier this year, Hayes attended a Start-Up Weekend, where entrepreneurs worked together to pitch business ideas to investors throughout one weekend. After networking during the event, Hayes met several other entrepreneurs and local "go-getters" that have spoken about their business to members of CREG.
Although now CREG is looking for paid members ($99 a year buys admission to each networking event for entrepreneurs, discounts to workshops and initial business assessments with tips for start-up businesses) it has more than 100 members on its meetup.com group, which Hayes said helps get the word out.
(Continued on Next Page)
Prev Next
Vote on this Story by clicking on the Icon