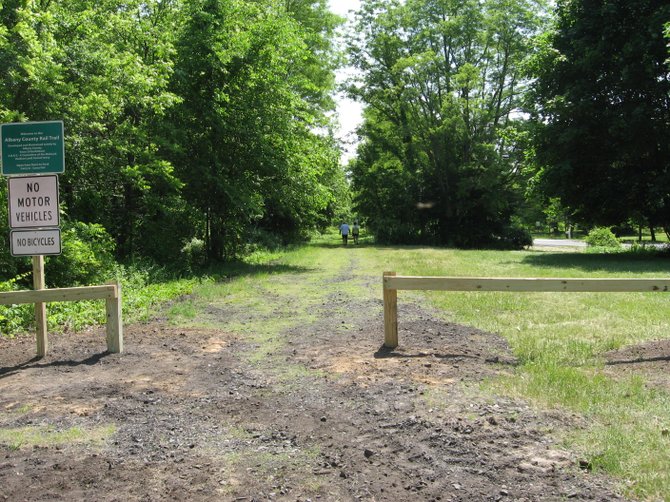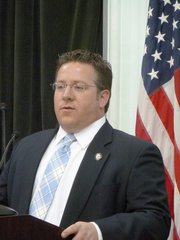 BETHLEHEM — Albany County Executive Dan McCoy presented an abbreviated version of his State of the County speech to Bethlehem residents before the most recent Town Board meeting as part of this tour of local municipalities, but the main concern of residents at that meeting was the county's rail trail.
At the meeting on Wednesday, April 11, McCoy said unfunded mandates from the state would never allow the county to work within a 2 percent cap because $179 million of the budget pays for mandates. McCoy spoke about the Albany County Nursing Home and laid out four choices for the future of that facility, adding it will cost roughly $11.3 million to operate the nursing home in 2012.
Pension costs and welfare are also big-ticket issues affecting the county's ability to operate within a leaner budget, said McCoy.
"We are trying to explain to people that we are living within our means, but it's the unfunded mandates that hurt us," said McCoy, adding that shared services between municipalities could help solve some funding issues. "We have to start treating Albany County like a business and strive to make money to stop some of the bleeding."
When it came time for questions, most residents were concerned about the expansion of the rail trail.
Jill Knapp, executive director of the Mohawk Hudson Land Conservancy, said although residents and members of the "Friends of the Rail Trail" group realize the trail will not be completed in near future, the group is looking for support from the county in opening additional sections of the trail.
"In order for us to come up with the $2.5 million for the (already secured) grant, Albany County has to come up with $5 million," said McCoy during his speech. "There's eight bridges on this trail, so I'm told, and to rehab them would be over $1 million."
(Continued on Next Page)
Prev Next
Vote on this Story by clicking on the Icon