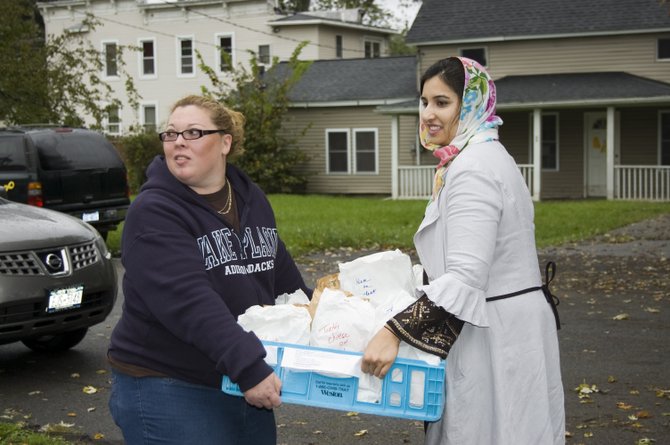 ROTTERDAM JUNCTION — Two religions came together to provide a hot lunch for Rotterdam Junction residents as they tried to make their houses homes again.
The women's group of the Ahmadiyya Muslim Community of Rotterdam Junction on Saturday, Oct. 1, teamed up with the "Sandwich Brigade" organized by Joann Canary and Ann Kulkus operating out of St. Margaret's Church in Rotterdam Junction. The effort between the two faiths seems it will extend beyond one day, because the Ahmadiyya group has already offered to help out in the future when the brigade has lunches that fall short or needs a boost.
Tahira Khan, of Niskayuna, said members of the mosque, which is located a short distance from the church, were ready to provide assistance to the residents of their community.
"When we had this idea of coming and helping with food today there was this feeling of excitement … this is part of our faith and to help neighbors is something that is intrinsically Islamic," said Khan. "We want our neighbors to know that although our mosque wasn't hit in the floods we feel their pain and we're there to do whatever we can to help them in a way that they need us to help them in."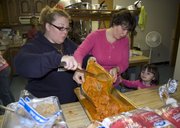 The group wanted to bring all Indian food, but she said they weren't sure if residents would enjoy it. This led them to bringing a mixture, which included some "good ol' American food" from Subway and chicken tikka masala and rice. The Indian food also provided a hot lunch compared to the subs.
"On this cold, wet, damp day, I'm sure it is going to be enjoyed by everyone," Khan said of the Indian food. "Chicken tikka masala is kind of mild."
Canary said she came up with the idea to serve lunches to victims once she realized free lunches weren't going to be offered at the local firehouse anymore. Before mosque members teamed up with the church on Oct. 1, the lunch program had only run once the previous weekend. People can come and pick up lunch at the church, but the focus is to deliver lunches to residents working on recovery efforts within Rotterdam Junction. It's extended to delivering lunches to Pattersonville, too.
(Continued on Next Page)
Prev Next
Vote on this Story by clicking on the Icon